Website Creation
Over the years we have built well over 100 websites using a variety of platforms and technologies. We are based in the USA with offices in Parkland, FL and Phoenix, AZ.
We write code. What does it mean? We write computer language that makes your website do stuff: look a certain way, operate contact forms and send messages, animate images, etc. What does this mean for you? We can create pretty much anything you want for your website. Since we do things ourselves, things get done faster and more affordably.
Want to Skip the Rest?

click here
Psychology-Based Website Design
We have spent the past 10 years studying the psychology of website visitors over several different categories of businesses. The result of these efforts is a deep understanding of what turns a visitor into a customer. We don't create websites to be works of art, we create websites to be functional. In short: we create websites that are designed to generate leads for your business.
What makes us different?
We do everything in-house. When you call, chances are the first person you will talk to is a web design, not a salesman.
We are coders. We write code and can easily troubleshoot problems that would baffle the average "web designer" out there.
We don't try to make you fit into our mold. Everything we do is custom
Building Relationships
Our philosophy over the years has always been to provide outstanding service at an affordable cost. This can only be achieved by building long term relationships with clients that need our services.
No Maintenance Fee
Some advertising agencies charge their clients a mysterious monthly maintenance fee to keep their websites alive. We don't. Once we are done creating your website you will only pay for updates and additional pages or features as needed. No maintenance fee. We charge for hosting which is typically a $95/year fee unless your business requires a more advanced type of hosting (for example, companies listed in the stock market need to be hosted on a dedicated server which costs significantly more).
For more Information Call: 480-862-6131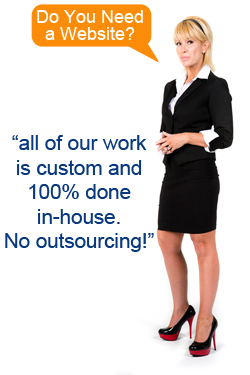 Do you need a Quote?

click here